Uttrakhand, CNI
Under the aegis of THDC India Limited, Schedule-A, Mini-Ratna, Public Sector Undertaking, the much-anticipated four-day event "Tehri Water Sports Cup 2023" kicked off from 14 September 2023 to 17 September 2023, with great enthusiasm at Tehri. Hon'ble Minister for Forest, Language, Election and Technical Education (Government of Uttarakhand), Subodh Uniyal inaugurated this prestigious championship. Sh. Kishor Upadhyay, MLA Tehri-Garhwal Smt. Sona Sajwan, Chairman, District Panchayat Tehri-Garhwal, Sh. Mayur Dixit, District Magistrate Tehri-Garhwal, Sh. Navneet Singh, SSP Tehri-Garhwal, Sh. Bhupender Gupta, Director(Technical) THDCIL, Sh. L. P. Joshi, ED(Tehri Complex), Sh. Prashant Kushwaha, President, Indian Kayaking and Canoeing Association, Sh. S. B. Sharma, IG ITBP, Dr. D. K. Singh, Secretary General, Uttarakhand Olympic Association, along with other eminent dignitaries graced the occasion.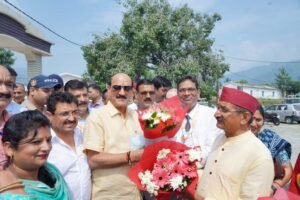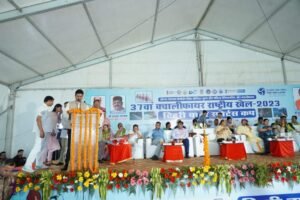 Subodh Uniyal in his address extended heartfelt appreciation to THDC India Limited for orchestrating this remarkable National level sports event, he also stated that THDC is a leading power generator of India, which is committed for both powering the nation and fostering sports excellence. He emphasized that these sporting endeavours are not merely contests but invaluable platforms that foster sportsmanship and nurture endurance among the participants.
During his address Sh. Bhupender Gupta, Director(Technical) underscored THDC's unwavering commitment to holistic societal development and inclusivity across India. He highlighted that this dedication extends to organizing prestigious national and international sports events like the Tehri Water Sports Cup-2023. He further informed that this competition holds significant importance as it serves as the qualifying tournament for the upcoming National Senior Category Men's and Women's Kayaking and Canoeing Championship set to be hosted in Goa at the end of October this year.
Gupta further expounded upon the visionary leadership of Sh. R. K. Vishnoi, Chairman and Managing Director of THDCIL. Under Sh. Vishnoi's dynamic guidance, THDCIL is strategically positioned for exponential growth and diversification across various energy sectors, including Solar, Wind, Thermal, Pumped Storage Power (PSP), and Hydro. This strategic approach underscores THDCIL's pivotal role in meeting the nation's energy requirements while giving paramount importance to sustainable societal development.
Gupta also mentioned that approximately 450 male and female athletes from 28 states and services will showcase their outstanding talents in this competition, with the aim of qualifying for the National Games 2023. This event is being organized by THDCIL in technical collaboration of ITBP, with the support from the Department of Sports and Tourism, Govt. of Uttarakhand, local police, and administration, along with guidance from the Indian Kayaking and Canoeing Association and the Uttarakhand Olympic Association.
Speaking on the occasion Sh. R. K. Vishnoi, Chairman and Managing Director, THDCIL stated that a High-Performance Academy at Koti Colony, Tehri, is being established with an estimated cost of approximately rupees (Rs.) Four crore. This academy would provide free food, clothing, training, accommodation, medical facilities, and school services to talented athletes aged 13 to 17 years in Uttarakhand, enabling them to excel nationally and internationally in the sports arena. Additionally, a 10% quota for these athletes will be reserved at the Koteshwar Dam complex.
He further added that the academy's construction is near completion, and it is expected that agreements on these proposals will be signed soon. The High-Performance Academy will offer training to Regional, National, and International talented athletes, along with National and International coaches and scientific facilities, with an estimated annual expenditure of rupees (Rs.) Four crore, he added.
Sh. Vishnoi also informed that an International Sports Exchange Programme would be implemented, allowing our athletes and foreign athletes to benefit from mutual training and technical expertise. This initiative would not only prepare our State and National athletes for International Competitions but also provides local people with employment opportunities and tourism benefits. The academy will initially admit 15 male and 15 female trainees based on their performance, with further recommendations for training provided by the academy's Sports Expert Committee. These training centers will be equipped with world-class sports equipment, scientific technologies, coaches, and comfortable living arrangements to prepare India's best athletes to shine and enhance India's reputation on the world stage.
Sh. R. K. Vishnoi, Chairman and Managing Director, THDCIL, articulated that these initiatives herald a significant stride in nurturing sporting talent, promoting cultural exchange, and amplifying Uttarakhand's presence on the national and international sports stage. Importantly, these endeavors promise to generate substantial employment opportunities and stimulate tourism in the region, fortifying both the sporting and economic landscape. He also added that these initiatives hold the promise not only to elevate the state's athletes but also to create opportunities for the local community, bolstering both sports and tourism in the region, he added.
The company's spokesperson informed that the conception and execution of the Tehri Water Sports Cup-2023 were born from Sh. R. K. Vishnoi, CMD THDC's visionary outlook. This event signifies THDCIL's commitment to blending sports with societal progress.