Preneeta Sharma
Nested in the lush green woodland of Oak and deodar, crosses meadows laden with wild flowers, glittering streams, the Deo Tibba trail is one of the most picturesque trek in the Himalayas.
The ramble not only offers a great view of snow clad peak ,but paddocks of Gaddi –shepherds will take to the campsite of Tenta, where one can meet the spectacular lynching glaciers. It is an absolute delight trail for nature lovers and photography enthusiasts too. This trek is suitable for all age groups with a difficulty level of easy to moderate.
Sited in Beas valley , the trek renowned for its wild flower covered of meadows, terraced fields of apple, paddy, maize and of course the splashing thud of the stream. On a further hike one can shove to the emerald blue waters of the Chota Chandertal Lake which is at the elevation of 6001 m.
The Deo Tibba Base Trek provides ample opportunities to the adventure junkies from exposure of glaciers to the moraine of the Himalayas.
DETAILED ITINERARY:
Manali – Chikka (10,200 ft. – 18 km)
Reach manali and then drive towards the small village Jagatsukh. Here we will drop you to the Baraah Hazaari Hydro Water Station, the preliminary point of Deo Tibba Base trek. It will take around 5 -6 hours to reach first campsite, Chikka, which are hefty flat meadow land, perfect for the crusade exposure. The hike itinerary will rove through thickly wooded hillsides of Oak and Deodar, frequently passes by sprawling lush green meadows. The voyage will be perk-up by the innumerable variety of wild flowers and herbs.
Chikka – Seri (12,800 ft. – apprx 8 Kms)
Seri is a perfect palce to reconnect yourself with nature. So to reach Seri, firstly hike to a glorious football like ground having mountain crests all around. This is also a mark where Jagatsukh Nallah entirely squashes out.
Seri – Tenta (13,775 ft.) – Chota Chandratal – Seri
Board towards your next destination, Tenta, where you will explore the superlative visions of the Mt Deo Tibba and its intimidating glaciers which will ascend high in front of you. While on the track, you will also meet the three trivial streams having no bridges. If you want to go further, you can move towards bright green blue water charming lake –Chota Chandratal.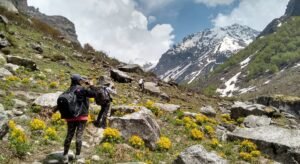 Seri – Chikka – Manali
After a dawdling breakfast, geared up to a place from where we commenced. The voyage will be same as we have taken at the initial stage, Baraah Hazaari.