Nested by the deodar forests and a river flowing along the road , the Balu Nag trail is one of the most easiest trail in Jibbhi of Kullu district . The trek is famous for its varieties of flora and fauna and offcourse the shrine that is located inside the hidden Himalayas.
This trail is perfect for beginners and seasoned adventurers alike. The trail is almost 8.4km and takes around one hour to complete it . The trail begin from Bahu village of Jibhi and ends  at the temple Balu Nag. Through out the trail , you will experience the breathtaking landscapes and the serene beauty of nature. The trail takes you to the Balu Nag Shrines which is one of the eighteen Naga deities .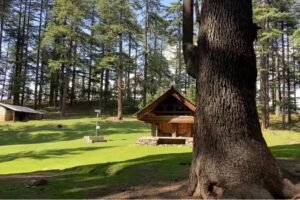 The road is muddy but the scenic beauty will definitely take your heart. Enroute you will find a pond where you can relax and enjoy the green woods beauty. At different places of trail, you will find some sign boards which mean instruction what not to take to temple.
The wooden architecture with nag idol inside the temple  is where the trail ends. Here you can listen the chirping of different birds. According to priest, the temple is famous among locals as it is the land of nagas.  Priest also told that and those who donot follow instructions that are placed in different sign board get punishment for not following rules.
How to reach
From Shimla first you reach Jibhi. Nezt day from Jibhi  move upwards to Bahu Village which is almost 10km . The road is muddy and enclosed by deodars both sides. Once your reach Bahu village trail started with a level hike  surrounded with deodar trees all around. Take your snacks with you as in between you will not find any shop or any other restaurant, dabha's.
Enjoy the Nature and heal your heart with fresh air.