Dated back to the chronicle era and find genies of art, that has been passed from one generation to another. The Chamba Rumal is one out of them. Dwellers of Chamba gave birth to an elaborated form of sewing known as the Chamba Rumal.
Called as the valley of Milk and Honey, Chamba is a land of mystic serenity, enchanting vistas, refreshing air, lofty mountain passes and slopes that lies at the height of 996 m on banks of the Ravi River of Himachal Pradesh.
The embroidery done on Rumal was based on nature, mythology, articles of everyday use and happenings of everyday life, animals, birds and trees. It is said that the King of that era and his nobles employed the painter to record important happenings in the court including musical modes, seasons, mythological subjects, agony and love. The ladies of the court created the same motifs with their needles in an equal amount of skill of the painters. The king astonishes by seeing this and from that era the needlework was done on it.
It is an eccentric form of visual art achieved by beautiful embroidery created on a hand spun cloth using an untwisted smooth thread which seeks its roots in pahari (mountain) paintings. Khaddar or unbleached muslin is usually the cloth employed for Chamba Rumal embroidery. The embroidery is done in soft shades in small double darning stitches which appear the same on both sides. Outlines and details are worked in double running stitch and sometimes small patterns on costumes and other details are shown in colored darning stitch.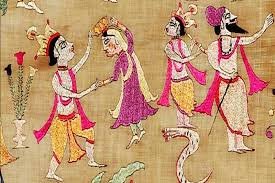 Chamba embroidery mainly spins around deities, such as Shiva, Ganesha, Durga, Vishnu, Parvati, and Lakshmi. One of the favorite themes of a painter was the cheerful frolics of Lord Krishna with Radha. Lord Krishna was shown in various poses with Radha while the gopis (devotees) dance around them. Some scenes of battle and hunting are depicted with great finesse. Various attacks which show guns, swords, spears, etc are also shown.
The embroiderer also sometimes creates Chaupar, a game of dice played on two long bands of cloth joined together to form a cross, on the Rumal with four sets of players seated on the four sides. Embroidery also showed elements of nature comprising banana, lotus flower, peacock, parrots, shrubs, monkeys, deer, fish, clouds, cranes etc. The canvas teems with life giving a tremendous sense of movement to the composition.
Khaddar, which is basically a rough, and hand woven cotton, and mal mal, also known as fine muslin, were the fabrics used in creating Chamba Rumal. Khaddar was used for Chamba Rumal due to its availability, viable cost and durability. The figures and floral patterns drawn on the Chamba Rumal are filled with pat, a type of untwisted silken floss.
The most popular colors used in Chamba Rumal are ultramarine, Persian blue, carmine, parrot green, deep red, pink, brown, black, white, lemon, deep yellow, brilliant pink and purple.
The people of Chamba gifted the embroidery on every occasion including the girl's wedding. The Rumal was an essential part of the bride's dowry that was expected to have learnt this craft at a very tender age. As it was a dowry luxury, the handicraft depended solely upon occasions such as weddings and marriages and the ceremony would not be rendered complete without the presentation of the Chamba Rumal by the bride's relatives. The Rumal were adorned by men and women alike. People of every class produced this Rumal and hung them proudly across their shoulders.