HPSPCB organize State Level Inter School Quiz Competition
The Himachal Pradesh State Pollution Control Board has organised the first ever State Level Inter School Quiz Competition namely "Himachal Enviro Quiz- 2022" on the occasion of World Environment Day 2022 today on 5th June 2022 in association with "Nimyle Eco Friendly India Mission".
Suresh Bharwaj,Minister for Urban Development, Housing and Parliamentary Affiars, Himachal Pradesh was the Chief Guest on the occasion. Probodh Saxena (IAS), Addl. Chief Secretary (Finance, Planning, Economics & Statistics, Twenty Point Programme, Personnel, Environment Science & Technology) cum Chairman H.P. State Pollution Control Board inaugurated the daylong event by lighting the lamp.
In his inaugural address, Probodh Saxena, highlighted the ancient practices of environment protection siting several examples. He said that one of the essence of Ramayana is Sanjeevani Booti, which is the gift from nature to mankind. Further he emphasised that keeping in view the effect of climate change, time has reached to reorient our development priorities so that development objectives are achieved in environmental sustainable manners.
Suresh Bhardwaj, Minister of Urban Development, Himachal Pradesh presided over the valedictory session of the event and distributed prizes to the winners of the State level as well as district level competition. In this event 2754 schools and 4944 teams had participated in the district level round and 33 winning teams from 12 districts participated in the first state level competition held today at the HP University Summer Hill Shimla.
Bhardwaj expressed his pleasure that "THE FIRST ENVIRONMENT CHAMPION OF HIMACHAL PRADESH" is from Govt. School.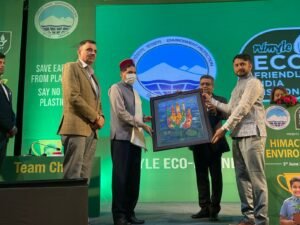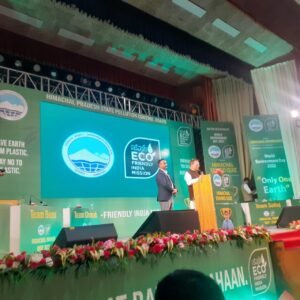 In this event, Aditya Pratap- Class – XI and Akshit Kumar- Class – X from GOVT. SR. SEC. SCHOOL BASSI (Bilaspur) became the first ENVIRONEMNT CAHMPION of the State. Winning team was awarded with Laptops, medals and trophies. He congratulated the students, principals and staff for maintaining quality education in their institution.
GARVIT SAHNI Class- XII and SARANSH VASHISTH Class XII – ST. LUKE'S SENIOR SECONDARY SCHOOL was the first runner up, who won tablets, medals and trophies.
PARIN BHARDWAJ & DIVYANSH JAMWAL from EKLAVYA MODEL RESIDENTIAL SCHOOL NICHAR (Kinnaur) were awarded with mobile phones and trophies.
Teams stood at 4,5 & 6th ranks awarded with mobiles, laptop bags & participation certificates.
Noted Quiz Master, Shri Venky Srinivasan (CEO, Nexus Consulting) took over the Quiz Competition after the inaugural address of Hon'ble Chairman HPSPCB. It is worthwhile to note that month-long Quiz Competition had started with the registration on 7th May 2022 and ended on 17th May 2022 and 2988 public and private higher and senior secondary schools had registered 5909 teams across the State. District level online round was conducted on 20th May 2022 in which
Subsequent to the online Quiz competition conducted on 20th May 2022, 36 teams qualified for the final round, in which top three teams were selected participated for the top 6 positions. After the completion of the all rounds, the names of winners are as below:
Apoorv Devgan, IAS, Member Secretary, Himachal Pradesh State Pollution Control Board in his welcome address stated "Children are the future of the country and safe keepers of our environment. We hope that the quiz will be right trigger to induce positive attitude towards environment conservation". He also thanked to the Department of Education, Himachal Pradesh for extending their support throughout the last month for successful conduct of the event.
He also informed that Govt. of India imposed ban on a number of Single Use Plastic Items w.e.f. 1st July 2022 and appealed all stakeholders to extend all support for implementation of above ban in letter and spirit.