KARGIL, 21 JAN 2023:-
To mark the ending of winter season, every year on 21January, a festival called as  Mamani Annual Ethnic traditional food festival is celebrated.
In this festival, all traditional dishes of Kargil region are made including Thukpa, Popot (Grain Soup), Hrtsrap Khur (Yeast Bread), Markhor, Azoq (Skinn & Kabchey) (Puri), Poli (Pane Cakes of Buck Wheat), Curd, Suggoo (Kash or Pachae) etc.
All the people of Kargil gather at a specific place Changrah where the prepare various types of food and hold special prayers.
As per the traditional calendar, January 21 is the end of the Mamani month which is regarded as the end of the harsher part of the winter. The history of the celebration of this festival in Ladakh dates back to the time before the arrival of Buddhism here.
At that time, people used to worship spirits called Lha and the tradition was that whatever dish one prepares at home, they had to bring out a quantity of each item on this day in the name of the Lha. As the tradition still exists with a few modifications, both Buddhist and Muslim communities offer special charity and organize special prayers for their deceased ancestors.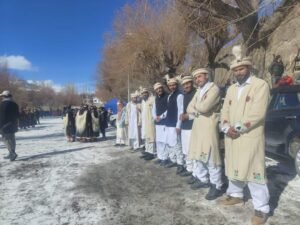 The event which is held across villages and towns is considered as one of the main events and a classic example of brotherhood and amity. It is also a special occasion of public gatherings and bonding for cultural and communal harmony.
. Mamani is a three days festival that celebrates every year this day has been practiced by the people of Kargil in Ladakh Union Territory.
Such report of Mamani, the ethnic food festival were also celebrated at Skangkung at Sankoo Suru,TSG Block Shargole,Shakar Chiktan and Drass.