Belletristic Society holds its annual event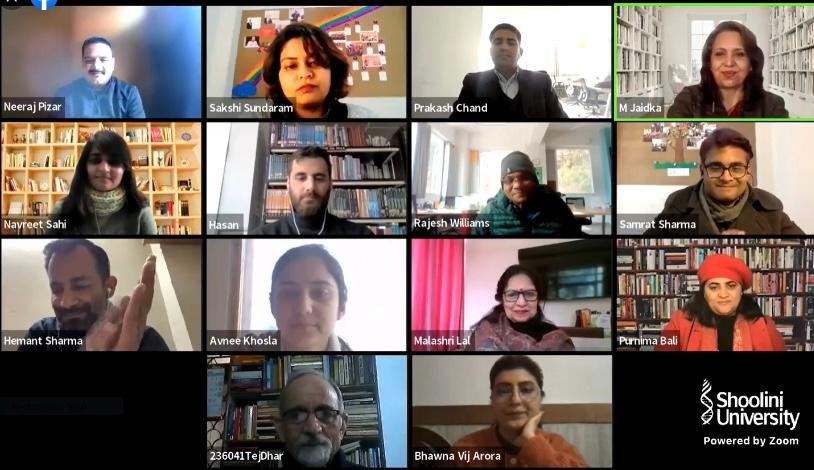 Shimla, 15January
Belletristic, the literary society of the department of English, Shoolini University, organised its Annual Round-Up programme to sum up all the online literary events organised in the year 2021.
Altogether, the Department of English has held more than forty events ranging from poetry symposiums, debates and discussions, books launches, creative writing competitions, invited talks and lectures.
These events include the First Shoolini Literature Festival held in February 2021 which was three day event and had twenty-two sessions with about a hundred participants. Another major event was the 21st MELOW Conference that Shoolini University supported in November 2021 in which close to eighty scholars from across the globe participated as speakers and chairpersons.
The Chancellor Prof. PK Khosla and Vice-Chancellor Prof. Atul Khosla were present in the session along with the trustees and the management of the Shoolini University. Professor Manju Jaidka, Head of Department of Liberal Arts, gave a recap of the events conducted by the English Department in the year 2021. The other faculty members of the English Department, Tej Nath Dhar, Purnima Bali, Neeraj Pizar, Navreet Sahi, Samrat Sharma, Sakshi Sundaram, Hemant Sharma, Rajesh Williams, took turns in giving information about the activities of Belletristic.
The Department of English plans to organise the second Shoolini Literature Festival by March this year. It is also working on an Encyclopedia of Indian Writing in English for which there are about 150 contributors from India and abroad.