A session with budding story writers organised at Shoolini Univ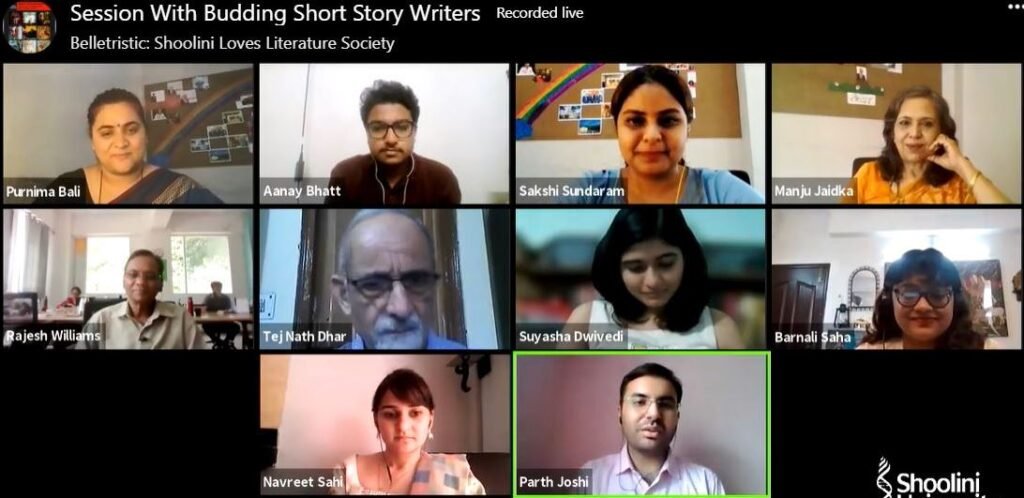 Belletristic, the literary society of the Department of English, Shoolini University organised another scintillating literary session to celebrate the winners of its third short story competition announced in June 2021.
The competition was titled 'Here Comes the Sun". The two best entries were read out in a virtual session by the writers. The panel for discussion consisted of faculty members, Head of the Department Prof. Manju Jaidka, Prof. Tej Nath Dhar, Dr. Purnima Bali, Neeraj Pizar, Sakshi Sundaram, Rajesh Williams, and Dr. Navreet Sahi.
The session was also joined by Parth Joshi, from Christ College, Rajkot, Gujarat, and Barnali Saha, from the School of English Studies, Vivekanand Institute of Professional Studies, New Delhi.
The authors of the outstanding stories were undergraduate students from Gujrat and Delhi: Aanay Bhatt, a final year student from Christ College, Rajkot, titled his short story "Inverter". He created the real-life scenario of a household during the ongoing pandemic. The slice-of-life episode narrated in the story was one that all could relate to in the present pandemic situation. Aanay, who has been a science student, has chosen to follow his muse and does a lot of creative writing. Additionally, he is an award-willing documentary producer, too, script writer with a lot of promise. The second author, Suyasha Dwivedi, is also a final-year graduate student from New Delhi. The title of her story was "The Conch Shells" and it revolved around a woman who had suffered a miscarriage. Suyasha seems influenced by the early modernist tradition and her story was reminiscent of the stream-of-consciousness technique used by Virginia Woolf.
The session proved inspirational for all other students who aspire to write.
In the upcoming week, the society proposes to hold a session on the Feminist Dystopian novel, "The Power," by British writer Naomi Alderman and the presenter will be a doctoral student of the Shoolini, Hasan Nassour.