Conference on The Science of Spirituality organised in Shoolini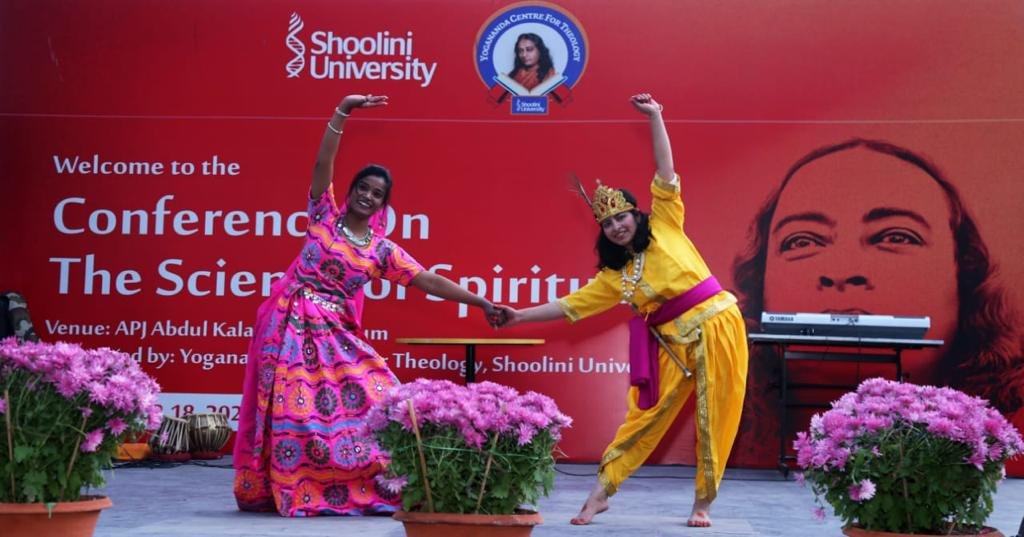 One day conference on "The Science of Spirituality" was organised by Yogananda Centre for Theology, Shoolini University on Saturday in hybrid mode. The conference was attended by Ishwarananda Giri Ji, General Secretary, Yogada Satsang Society of India, Swami Anupamananda ji, General Secretary, Ramakrishna Mission, Chandigarh, and Dr. IV Basavareddi, Director, MDNIY, Ministry of AYUSH. Professor Prem Kumar Khosla, Chancellor, Shoolini University and Mr. Vivek Khosla, Chairman, YCT along with Mrs. Saroj Khosla, Dean and Directors Shoolini University were also present in the conference.
The four speakers who joined the conference through online mode were Dr. Sukant K Chaudhury, Department of Sociology, University of Lucknow, Dr. Balaganpathi Devarakonda, Department of Philosophy, University of Delhi, Dr. Eika Banerjee, Founder and CEO, Eikam Resonance and Dr. Janki Santoke, Vedanta Organization Trust.
The conference had three sessions with three different themes including Universality of Religion, Spirituality in practice and Education, Mental Health, and Holistic wellbeing. The speakers talked about how adding spiritual in daily life can help students increasing their concentration and achieve their ultimate goals. The YCT Annual magazine, 'Divine quest' was released by guests along with Patron and Chairman of Yogananda Centre for Theology Prof. PK Khosla. More than 100 students participated, and 60 students were present during the conference.
The function ended up with valedictory ceremony along with cultural event. The conference was organised by YCT Coordinator Dr. Prerna Bhardwaj, Dr. Supriya Srivastava, Editor, Annual Magazine, Dr. Amita Sharma, Ms. Prakrati Garg, Student coordinator, Mr. Apar Kaushik, Student coordinator and Gulshan Gautam, Event Manager along with the whole team.