Preneeta Sharma
Sprawling at an altitude of 1600meteres, Chhoie Waterfall is a perfect place for  breathtaking views and scenic backdrops. The waterfall is  situated in Tirthan valley of Kullu district. Chhoi waterfall is named after local deity Chhoi Mata and locals come to worship the goddess at one of the trees which is near to the waterfall.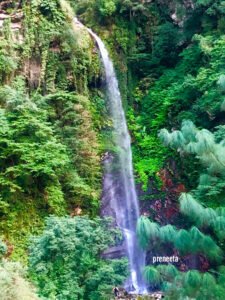 The trek to the Chhoie or Choi waterfall begins from two points one is Shoja where you can find a forest rest house and another is from village Nagini .  Both are Uphill treks  that is approximately 3km . This is one of the perfect place that provides a paradise for trekkers who are looking to refresh their soul and minds.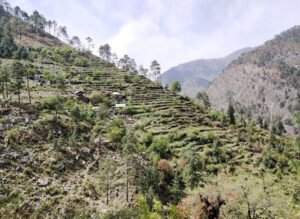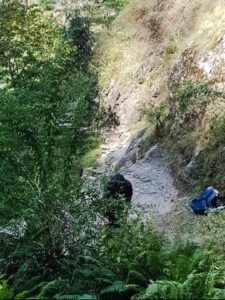 From Shoja , the trek is about three kilometer and is not much steep. Here in Shoja(Forest Rest House) you will meet Govind ,Eco Tourism Facilitator who will guide you about Tirthan Valley. From him or we say here only , we will get permission to enter Great Himalayan National Park also. Govind is Eco Tourism Faciliatory with the Himachal Forest Department  and off -course was a very nice and helpful person. He will provide you a Guider who will guide you through out the Jungle.
EXPERIENCE WITH SHABNAM (TRAVEL GUIDE )
Chhoie trail is easy for us as  Shabnam (local Guider from village gushani)guide us .From Shoja, it is steep and easy trail. In between , you can enjoy the scenic beauties' and rhododendron trees.  On reaching to the destination , it was literally a pic out from the jungle book. The sound of the Chhoie waterfalls' crystal is clear stream falling on the rocks and it will took your breath away. Green bushes surrounded the pristine roaring water. You can also choose to take a bath here . The calm water is awesome to taste if you feeling thirsty.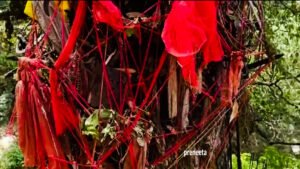 After spending few moments, head back to the village Nagini , another point to start the trek. The downhill climb was much smoother with few rocky areas in between along the nallah that originates from the fall. Going back to the Nagini Village , you will find tree where red clothes , pins , steel are tired don't get surprise that is Chhoie Mata, a local deity which is worshiped by the people who live nearby ( information is given by Guider Shabnam). Reaching to Village Nagini, you can have food and coffee . From here , you can take your vehicle or bus or walk to reach your next destination.
The chhoie Mata trail is awesome trip for our team too and we thanks Shabnam and Govind to guide us .