All India artist Association given awards to Himachali heroes
All India Artist Association has awarded Himachalis with "Indian Heroes Award 2022 " for their commendable services in their sectors.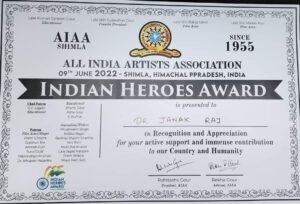 Dr Janak Raj, MS, IGMC has been awarded with Indian Heroes Award for his services during pandemic. Whereas Kimi Sood,Councillor Benmore has also been awarded for her commendable services and the work she done during her tenure.
Dhali Police Club members were also awarded for their services, including distribution of mask, food to the poor people during pandemic. A youngest drummer Dron Chandel has also been awarded for his talent.
The awards was given in gaiety theatre.